In April 2022, I wrote:
The American Birding Association has not had a permanent leader since November 2021. The Board of Directors has been searching for a candidate since that time, but it does not appear to have found one.

This is not surprising, as the next Executive Director will take the helm of an organization that is in debt, experiencing a long-term revenue decline, and regularly runs operating deficits. The ABA's own accountants question whether it can continue as a going concern. Membership numbers appear stagnant…

These facts make it a challenging position to fill.
In May 2022, the ABA announced the hiring of Nikki Belmonte as the new Executive Director.
In May 2023, the ABA announced that Ms. Belmonte was departing after just one year and that a search was underway for a replacement.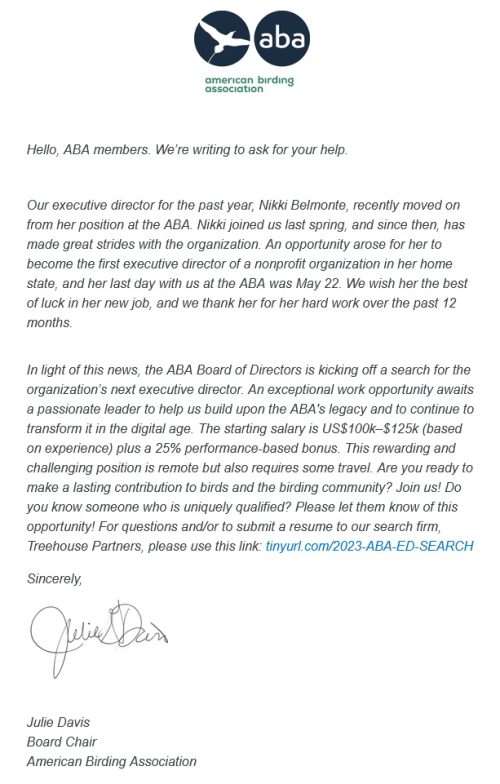 The announcement stated that Ms. Belmonte's last day had been three days earlier.
It appears that Ms. Belmonte departed the ABA – a national organization – for a regional nonprofit, the Georgia Native Plant Society. The loss of an executive director to a smaller organization after such a short tenure may be a cause for concern, as it may reflect a poor hiring decision by the Board of Directors or an absence of confidence in the Board of Directors by Ms. Belmonte. (Of course, it could also be a consuming passion for the native plants of Georgia or something else entirely.) At a minimum, quickly cycling though executive directors is distracting and expensive, and it denies the ABA important day-to-day management and leadership.
The hiring of Ms. Belmonte was assisted by a search firm, and the current search is also using a search firm. Such companies are typically compensated with a percentage of the hire's first year salary. Thus, some ABA funds (i.e., dues and donations) are almost surely being used to pay a professional search firm to assist in hiring for the same position twice in less than 18 months.
The use of search firms is common and there is certainly no harm in using them to fill high-level positions in a national nonprofit, but one hopes that they are used infrequently and the result is a long successful tenure. Unfortunately, that is not the case here.
The ABA's most recent financial statements (from 2021) indicate that the ABA remains in financial peril, with ongoing annual losses and negative net assets. The ABA's accounting firm states: "American Birding Association, Inc. has suffered recurring losses from operations and has a net asset deficiency." Thus, many of the challenges of 2022 remain challenges in 2023.
Note that the accountants conducted a "review" rather than a more comprehensive audit, perhaps anticipating an under-the-radar change in the bylaws at the last annual meeting. The new bylaws have been posted, but the minutes from the 2022 meeting have not.
As I indicated in 2022, the ABA has many important strengths, but it still appears to be finding its place in the birding community of the 2020s, unsure of its position in a world with eBird and an abundance (or overabundance) of birding information. Despite this, the Board of Directors has still not sought input from membership or shared its strategic plan. (I had some suggestions and surely others do too.)
And, once again, the ABA lacks an executive director.