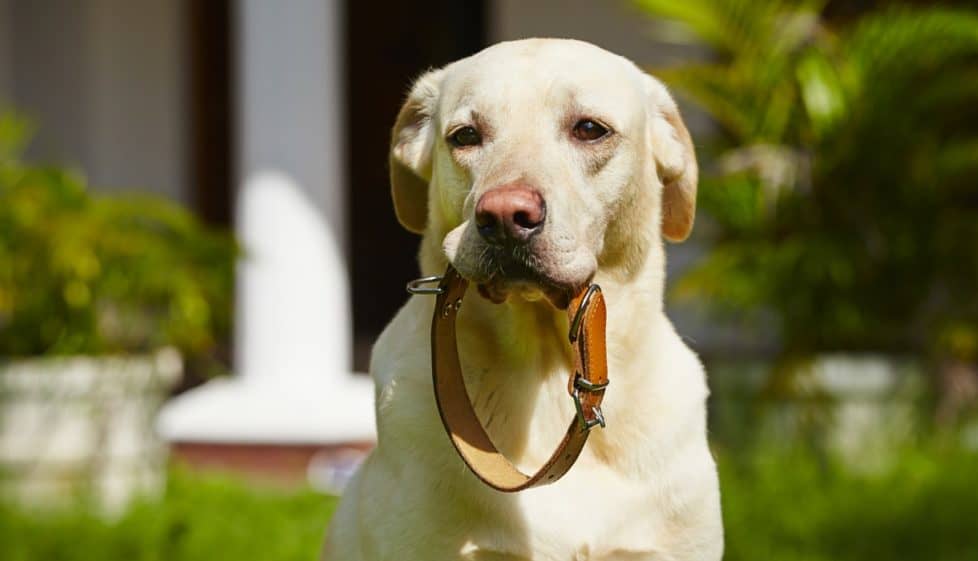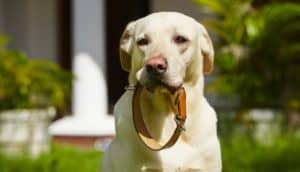 Smart Dog Collars are a technology to help track your dog's location and a whole other list of data. We have found some of the best smart dog collars and trackers for 2018. Dogs are one of the most rewarding pets a person can have. This is due to their loyalty and amazing personality, as well as the fact that they love you no matter what and are always there for you. Getting appropriate accessories for your dog is important because they've long ceased to be just ordinary accessories. Dog collars now aren't just collars which go around your dog's neck. They are so much more because they have some functions which help you keep track of your dog, keep track of how much exercise he is getting, and so much more. And they sure can make your dog look stylish. Listed below are some of the top smart collars a person can buy for their dog if your one of those that always want the BEST for their dog and love to spoil your dog.
How to get the right size collar for your dog
Measure your dog's neck before you purchase the right size. You can do this by getting a measuring tape and putting it around your dog's neck.  If you'd have one handy, you can substitute it with a shoelace and a ruler. Place the measurer on the exact place your dog will wear its collar
Will be, then add two inches to it. This will ensure that the collar isn't fastened too tightly.
Types of smart dog collars
Not all smart dog collars are the same, in fact, there are three types.
The first type is a 'training collar.' As the name suggests, they're made to make training of your dog easier. They're full of features which also aid the process of training, and make it quicker. If your dog isn't obedient, you can also try to fix that with a training collar. They work by giving your dog a small amount of stimulation. The level can be controlled by the users. Not all are electric. Some spray a harmless citronella spray.
The second type of smart dog collars is the GPS collar. These have a GPS tracker implemented in the collar. This way, you can know where your dog is every second of the day. Accurate location is ensured thanks to the high sensitivity GPS transmitters and receivers. Some collars are able to connect to the WiFi, which allows faster tracking of your dog.
The third type is much like the second, with an added bonus of activity tracking. The activity and GPS dog collars track your dog's activity daily. These have a companion app for your phone, too. They're quite useful for keeping an active pup, especially if you're trying to get your dog to lose weight.
Top smart collars on the market
There are a lot of great choices when it comes to the smart collar, same as with anything else you would want to buy. That's why it's important to be able to narrow down your choices. In order to help you, the list below has been devised, and it's a unique representation of what the most popular and best smart dog collars are right now.
Remember, a good dog collar should fit your dog comfortably, track it's location, health or activity, and provide a strong sense of security for both you and the dog.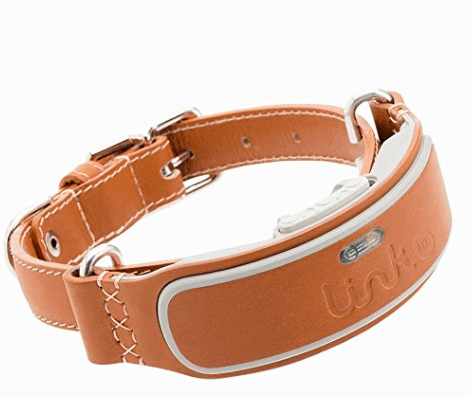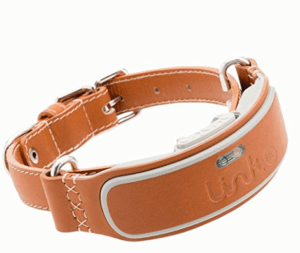 This is a one of a kind tracker which features everything you need in one collar. The first and maybe most important feature is the accurate GPS tracker. It's highly reliable and fast, but the trick is that it only works inside the USA. As far as activity tracking is concerned, it pays close attention to how active your dog is, and it makes a personalized plan on how much your dog should exercise during the day. Another neat feature is that it allows you to save all those special memories with your dog, primarily all the adventures you went on together. Now you can save the hikes and special walks!
It's also able to measure outside temperature and then send you alerts to know if your dog might be getting too hot or too cold. As far as training is concerned, the collar has a remote activated LED light which helps.
And on top of all that, you can store your vet records, right there, in the collar.
Pros
Accurate GPS tracker
Activity tracker
Available for all sizes
Helps with training
LED light
Ability to store vet information
Cons
Works only in the USA
some dogs may not like wearing a collar all the time
PetPace Health Monitoring Smart Dog Collar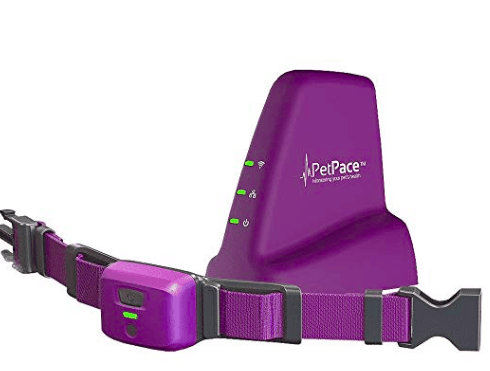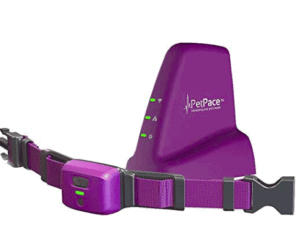 If your primary concern about your dog is its health, then you should stay on top and in control with this health monitoring smart dog collar. It pays attention to all the essential indicators which will be the first to show if something is wrong. It measures temperature, respiration, pulse, burned calories, heart rate, positions, and activity.
This collar can be used by anyone, but it's especially recommended for those who own a dog which suffers from chronic health conditions, anxiety issues, stress-related issues, and those whose aging process is advanced. It's very helpful for explaining the situation to your vet too, and for the vet to be better informed about the issues your dog might have. You can get the information easily by plugging in the collar to your router.
When you get the collar, you'll need to get a subscription and create a dog profile. Thanks to this profile, you can compare your dog's health to the normative health of its breed and thereby conclude if your dog is healthy.
Pros
tracks the entire health of your dog
good for dogs with chronic and other illnesses
easily retainable information
easy access to vet records
Cons
you need a subscription to get the features
This is a training collar which mostly focuses on your loud pup keeping quiet. You could use shock collars for this purpose, but that's not very humane or nice. Your dog doesn't deserve to be treated that way. That's why the ZenDoggo uses ultrasonic sound which doesn't hurt your doggy. The collar constantly analyses the sounds of the environment and distinguishes your dog's barks from them. It's able to fit dog breeds of all shapes and sizes, making training anywhere fast, safe, and effective.
As far as batteries are concerned, you won't have to worry about them running out as ZenDoggo has included high-quality batteries in their collar when they upgraded it.
Pros
no shock
effective
fast
various sizes
Cons
there is an annoying beeping sound that comes with the vibrations
PetSafe Bluetooth Training Collar
This training collar might be the only one you'll need to teach your dog proper behavior and tricks. It has a partner app which you can run on your iPhone or Android phone. The collar features three levels which help teach commands and correct behavior: the first is a beep, the second is vibration, and the third consists of 15 adjustable levels of static stimulation. As you can see, this is a humane collar, which doesn't hurt your pup with an electric shock.
It's rechargeable and able to work paired with the app as far as 75 yards. On top of that, it's also waterproof.
It uses wireless Bluetooth technology, which makes it so much easier to control with your phone. The app which accompanies it is very easy to use and nobody will have any issues, even if they haven't used such an app before.  Furthermore, the app allows for multiple users to have command over the collar. This will allow other family members to contribute to the dog's obedience, as well as dog sitters.
With this collar, training will feel like a breeze and neither you nor your dog will stress about it.
Pros
Easy to use
No shock
Bluetooth technology
Waterproof
Cons
The control distance could be bigger
Getting one of these will surely benefit you and your best friend in numerous ways. Having your dog run away and not being able to find your pet is a horrible feeling. And knowing a problem is going on BEFORE your dog ends up in the hospital –or worse–is worth investing in one of these smart devices.
Remember, a dog is worth all the love, patience, energy, and care you put in it. And the first step to showing all of the above is definitely buying an adequate dog collar which is bound to make your dog "top dog" around the park. We hope you enjoyed reading about the top smart dog collars of 2018!