Photos by Daryl Conner
There was a time when I would groom dogs with my infant daughter in a backpack. That was 33 years ago, and now my daughter, Rachel, who works with me in my grooming studio, often wears her baby in a backpack while we work. 
And she is not alone in grooming with her child… 
Quinci Cole of The Dog Spot in South Weber, UT started a Facebook group called "Dog Grooming with Kids," and it currently has almost two thousand members. She said, "When I asked in other grooming groups about how parents handled certain situations, I had many groomers attack me, not knowing who I am or my story. I am just a mom with kiddos trying to figure things out and do right by my children. I got so much hate that I would often delete my posts and question myself.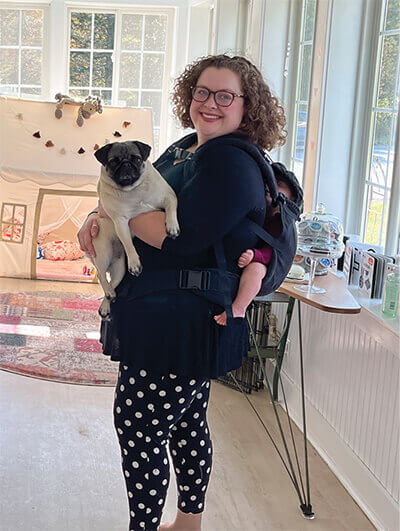 "Then I created the group," Quinci continues, "and we have so many parents who give helpful tips and cheer one another on. I am thankful for so many grooming parents who have joined and made us the great group that we are." 
Some groomers take their kids on the road in mobile units, and others make child-friendly spaces in stationery shops. Many have found that working from home is ideal for balancing pet grooming and parenting. The motivation for working with kids is the common thread. 
"The first five years of a child's development are so important. I don't want hired help to be responsible for teaching my daughter about love and trust," Rachel shares.
Mariah Arnett of The Dog Shack LLC in Portage, MI adds, "I always knew that if I had children, I would want to be a stay-at-home mom. The idea of a daycare or a stranger watching my son the majority of the day and me missing all those little moments; the little firsts, wasn't appealing to me." 
Jessica Heibein of Grooming by Jess in Wilmington, NC echoes her peers: "I waited until I was 35 to have my daughter, and I didn't want to miss her growing up."
 So, how does having babies and children in a working environment around pets work? 
Quinci says, "My kids had hearing protection and have been taught how to approach a dog since a young age. When my kids were little, we built them a toy room off the salon. A glass door connected it, so we could always see each other. Now that they are older and in school, I schedule my summers a little differently so they can do their activities while I work."
"We took half of our reception area and built a room," Jessica explains. "We insulated it for sound, and we have a Pack and Play, TV, and toys in there. We also have a play area near the grooming table and put up a half-wall to keep her separate from the dogs."
Cheryl Workman of Grooming Gallery in Mooresville, IN says, "I ended up working for myself and owning a shop just as much because of my son as anything. When it became clear that he was not neurotypical and going to need therapy, I realized that childcare might not be feasible. Having my own business, I could schedule around his needs. Even if I had to cut back, I was still able to make an income and pay my bills. 
"When he had behavioral issues at school and was sent home, I was able to bring him to work with me," Cheryl continues. "And no matter how difficult things were raising a child with special needs, having my creative work helped keep me sane. We had some struggles, but having a flexible career allowed me to be the kind of parent I wanted to be. I was even awarded 'The Difference Maker Award' for families at my son's school."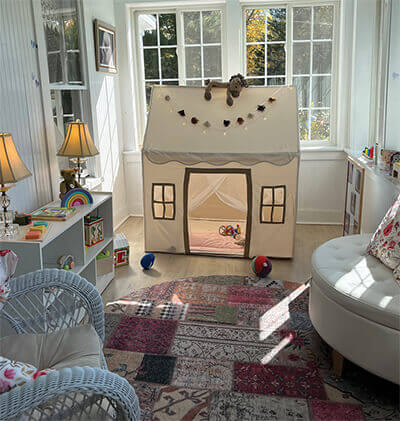 How do customers respond to their pet groomer having kids at work? 
Rachel says, "I have been overwhelmed by the support from our customers. When they come in, if they don't see her, they seem sort of panicked and ask, 'Where is the baby?' They shower her with gifts, and many get right down on the floor to play with her. She seems to bring an added level of happiness to their visit." 
Quinci agrees and adds, "My clients all have been great about it. Some love seeing the humans my kids are turning into, or love seeing them have the same excitement for their pet to come for grooming as I do." 
"Some days, I think my clients enjoy my son being in the salon with me more than I do!" Mariah shares. "They all love to see him on their regular visits, watch him grow, and hear about all the new stuff he can do. They have been a great support system for me through my pregnancy and transitioning into the motherhood phase of my life." 
What is the best part about being a groomer and having your kids with you as you work?
 "Feeling like I am a good mom," Quinci shares. "Sometimes it's hard to find your balance, and as they grow, it is constantly changing. Every so often, you feel you've found your groove, and whoops! there it goes, and we are back to square one." 
Cheryl adds, "You lose some productivity having kids at work, but it makes up for it by knowing they are OK." 
"I am surprised at how much happier working with my baby has made me. I am in such a better mood at work. I am smiling all day because she is doing something funny or giggling. I just love my days. I appreciate my job more," Jessica concludes. ✂️