Written and updated by Dr. Catharina Hjorth.
Probiotics for dogs shouldn't be complicated or risk causing further disruption to your dog's sensitive stomach; it should be kept simple! This is why Honest Paws Pre + Probiotic for Dogs is our favorite canine probiotic!
First and foremost, it contains a whopping 6 billion CFU*. Although it is rarely the-more-the-merrier with bacteria, that's definitely the case with this probiotic powder that should help keep your dog healthy inside and out! 
*Colony Forming Units– An estimate of how many live bacteria there are in a sample.
Our Top Picks When it Comes to Probiotics for Dogs
Why Are Probiotics For Dogs Needed?
You may have heard your veterinarian, a breeder, or a friend talk about probiotics. But, what is it? Put simply, probiotics are beneficial, or friendly, bacteria!
Humans and animals have billions of bacteria in their intestines. Some can cause disease, but probiotics help with everything from the digestion of food to fighting infections, strengthening the immune system–and some even help make vitamins and nutrients essential for the body!
All in all, this complex system is called the microbiome, and it's unique for every. single. dog. Probiotics, the beneficial bacteria, are already there. Still, more can be added to your dog's system to help it prevent and combat any microbiome-related disorders, simply by helping bring the microbiome back into balance.
Some of the disorders that can occur when the microbiome is affected include:
Suppose your dog is suffering from an unbalanced microbiome, possibly due to a lack of probiotics. In that case, you can luckily add probiotics to your daily routine and help bring the gut back in balance!
Just remember that probiotics aren't an easy fix solution. If your dog is suffering from diarrhea or other gut-related diseases, you can start with probiotics, but you should always consult a veterinarian if the issue persists!
The Five Different Types of Probiotics for Dogs
As there are billions of bacteria in the gut, it can be challenging to determine which ones your dog needs a boost of. Generally, the most common types of probiotics found in the intestines include:
Lactobacillus casei
Lactobacillus acidophilus
Bifidobacterium breve
Enterococcus faecium
Bifidobacterium lacti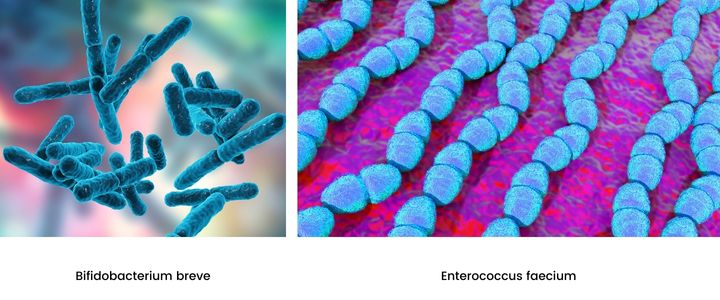 These probiotics can all be given to your dog in different ways and forms. The most common ones are:
Pastes
Probiotic pastes are often an easy and fast way to give your dog probiotics, with most dogs loving the sweet-tasting paste that comes out of the tubes. One minor issue is that it can sometimes become a bit of a mess!
Powders
Probiotics for dogs can also come as powders that will need to be mixed in with their food. Here the significant benefit is that the powdered probiotics are protected from any exposure to the environment around them, including air and moisture. However, some dogs may not like the powder, so it very much depends on the dog!
Food types with probiotics
You may have heard the old advice of eating yogurt when you've got an upset stomach. The same goes for dogs! A good source of natural probiotics is yogurt or kefir, as long as they have live cultures. Just make sure it is entirely plain, with no artificial sweeteners!
Probiotic pills are also available! Pills can often hide in a pill pocket or another delicious treat you know your dog will swallow whole. Just make sure your dog actually swallows the probiotic pill – and not just the delightful treat.
Dog food with probiotics
Some dog food brands have started adding probiotics for dogs in dog food! This is quite possibly one of the easiest ways to add probiotics to your dog's food. Another benefit of dog food with probiotics is that it often also contains prebiotics, which is nutrition for the beneficial bacteria/probiotics in the gut!
Just remember that bacteria are pretty sensitive microorganisms. If the food hasn't been made correctly, the probiotics can be killed off during production, making sure to choose a quality product.
The Top 11 Picks for Canine Probiotics
Our TOP Pick!
Best for Multipet Household
Honest Paws Pre + Probiotic is a blend of two powerful probiotics – Lactobacillus acidophilus and Bifidobacterium lactis – specifically designed to support your dog's digestive health.
The benefits of probiotics don't stop there! They can also help to boost your dog's immune system, improve their skin and coat condition, and even reduce the number of bad bacteria in their gut. This makes Honest Paws Pre + Probiotic a great choice for dogs with sensitive stomachs or who are prone to infection.
One easy way to ensure that your dog is getting enough probiotics is to give them Honest Paws Pre + Probiotic. Simply sprinkle the powder on their food once a day, and they'll be good to go! This product is in powder form, which is more bioavailable and makes it more effective than other chew and treats on the market. And if you're looking for a probiotic supplement that's specifically tailored to your dog's needs, Honest Paws has you covered there too. Check out their line of supplements, like Mobility – Green Lipped Mussel and Immunity Support – Turkey Tail Mushroom Blend, for dogs of all ages and breeds.
Best for Dogs and Cats Household
VetsPreferred Pre + Probiotic is a blend of one prebiotic called Inulin and 5 strains of probiotics – specifically designed to support your dog's digestive health.
What's inside?
Inulin – Chicory naturally contains inulin that is converted into short-chain fatty acids. They nourish cells, help with digestive health and provide various other health benefits.
Bacillus coagulans – Helps support proper digestion and bowel health
Bifidobacterium animalis lactis – Supports healthy digestion
Bifidobacterium longum – Helps maintain a healthy intestinal tract
Lactobacillus acidophilus – Assists intestinal health and immune function
Lactobacillus plantarum – Supports normal digestive function
Solarplast – also known as spinach leaf extract, provides a host of benefits for healthy aging, optimizing the body's processes through cellular restoration and repair
DE111 – is a clinically studied strain of Bacillus subtilis that delivers digest and immune health benefits. Helps maintain healthy gut flora
Probiotics are a great way to help your dog live their best life! They can boost the immune system, improve skin and coat condition (and reduce bad bacteria), all while being safe for pets with sensitive stomachs or who tend toward infection. VetsPreferred is one of my favorite probiotic brands because it offers both pre-biotics and probiotics.
One easy way to ensure that your dog is getting enough probiotics is to give them VetsPreferred Pre + Probiotic. Simply sprinkle the powder on their food once a day, and they'll be good to go! This product is in powder form, which is more bioavailable and makes it more effective than other chew and treats on the market. And if you're looking for a probiotic supplement that's specifically tailored to your dog's needs, VetsPreferred has you covered there too.
We also have a whole article on the Best Probiotics for Cats.
Best with 4 ingredients
Contains four different strains of probiotics for dogs, including Bacillus coagulants and Enterococcus faecium, with 6 billion CFU per scoop.
This powder has a very short ingredient list with only four ingredients, but it also contains no unnecessary fillers, preservatives, or chemicals. As a bonus, Native Pet is so sure of their easy-to-administer powder with the taste of the bone broth that they offer full refunds–no questions asked–if your dog doesn't like it!
The probiotic powder is an all-natural supplement and has some prebiotic fibers! These few but effective ingredients are there to support your dog's healthy intestines and help it through any health issues, including diarrhea, flatulence, and stressful periods of its life–and some of the probiotics (B. Animalis) even works to prevent acute cases of diarrhea!
Developed by veterinarians and Clean Labeled to ensure quality and safety.
Best for Daily Use
Check price on FullBucketHealth.com >
This dog probiotic is a pioneer in the field of daily canine supplements. Its concentrated yeast-based formula promotes optimal immune function in dogs and aids in intestinal support.
Full Bucket Canine Daily Dog is packed with all-natural ingredients specifically targeting active, athletic, and geriatric dogs. The best of all is that this product is both developed and used by veterinary professionals. Therefore you are ensured of its efficacy and your furry canine friend can enjoy the maximum protection.
This canine probiotic is recommended for use in the daily maintenance of your dogs' probiotic, prebiotic and digestive enzyme requirements. It's available in two sizes;
87g (3oz) = 30 servings
435g (15oz) = 150 servings
Support Full Bucket's "Veterinarians who give back" initiative by purchasing a jar of their Canine Daily Dog supplement. For every tub sold, Full Bucket donates one jar to a doggo or equine in need of some extra TLC!
Best Probiotic for Puppies
Contains Enterococcus Faecium at a minimum of 1 million CFU/g.
This probiotic is a supplement specially made for the management of diarrhea in puppies and adult dogs. It comes as a powder that can easily be mixed with your dog's regular dog food, making it easy to administer. As it is flavorless, most dogs should quickly ingest it. If your dog is a bit suspicious, it can also be mixed with wet food.
Each powder contains a guaranteed level of microorganisms, enough to promote healthy digestion. This powder also contains antioxidants to support your dog's immune system while bringing the microbiome into balance.
No. 1 probiotic recommended by veterinarians (Kynetec, Probiotic Recommendation Study, March 2019).
Best for a Variety of Flavours
Contains probiotics DE111, Lactobacillus acidophilus, Lactobacillus fermentum, and many more, with at least 3 billion CFU per treat (4g).
These probiotics come as delicious chewy treats, with a supplement of pumpkin and papaya (prebiotic that nourishes the microbiome and probiotics for digestion, bowel, and immune support in small, medium, and large breeds. This soft treat comes in flavors like pumpkin, bison, or chicken, making it easy to get your best friend to eat its supplements!
The treats contain a lot of different probiotics. Owners can use them both long-term to support their dog's microbiome or in cases of occasional gastric distress, like diarrhea, indigestion, or excessive gas. Another bonus is that these treats contain no artificial flavors, preservatives, or colors!
Zesty Paws are members of the National Animal Supplement Council, a nonprofit group dedicated to improving the quality of the animal supplement industry!
Best for The Dog Who Loves Pork
Contains eight strains of beneficial probiotics, including Bacillus Coagulans and Lactobacillus Reuteri, with 500 million to 1 billion CFU per treat (4g).
Also made as soft chews or treats, these probiotics are designed to help maintain the gut flora in all types of dogs. With a delicious pork flavor that most dogs will be happy to eat any day!
With eight types of probiotics and vitamins, minerals, and antioxidants, these treats can support your dog in more than one way–with the main focus being on digestive support, of course.
One slight downside to these treats is that the box only comes with 30 treats in them and large dogs need three chews per day, meaning it can quickly become expensive.
It contains no unnecessary additives or fillers and is produced in the USA.
Best Capsule Probiotic
Contains seven strains of beneficial probiotics, including Enterococcus faecium and Lactobacillus acidophilus, with 5 billion CFU per capsule.
This probiotic for dogs comes as clever capsules that owners can open and thereby sprinkle over the dog food, or swallowed whole as a pill, for easy administering–without any flavor, for the picky eater to dislike.
Each capsule contains seven different types of probiotics and prebiotics that nourish them when they get to the intestines. Pro- and prebiotics work together to maintain gastrointestinal health in dogs, but also cats! So if you are a multi-pet household, these might be the probiotics for you. Both cats and dogs should receive one capsule per day.
Nutramax was, in December 2019, during a survey voted as the number one veterinarian-recommended supplement company.
Best Probiotic Chew Treat
Contains five strains of probiotics, including Lactobacillus acidophilus and Lactobacillus Fermentum, with 1 billion CFU per chew.
This is another soft, chewy probiotic for dogs made with duck or pumpkin flavor to entice all types of dogs of any age, breed, or size. Just make them sit nicely, and most dogs should happily take the treat.
The treats contain five different strains of probiotics and prebiotics called fructooligosaccharides, which nourish the intestinal microbiome to support your dog's gut while also helping to balance the immune system and support overall health.
These delicious treats are to boot also made in a GMP certified facility (good manufacturing practice), is BPA free jars AND quality tested by a third-party laboratory.
Best for Budget
It contains several types of Lactobacillus probiotics with 1 billion CFU per scoop of powder.
Here's a powder that packs a punch and supports your dog's general health. It has no flavor or odor, so it can easily be mixed in with any dog food and should be administered as one or two scoops per day, depending on your dog's size. There are 360 scoops in one jar, and it is possibly best for multi-pet households or households with larger dogs!
The powder contains probiotics to support the intestinal system and combat diarrhea, loose stool, itching, and allergies for a holistic approach to ensuring a healthy pet family. Even better, this probiotic contains no fillers, animal by-products, or chemical preservatives– and owners can use it for both cats and dogs!
It is veterinary recommended and made at a GMP and FDA certified facility, and quality tested.
Best Enzyme-Based Probiotic
Contains enzymes for digestive health but also Bacillus Coagulans with 100 million CFU per gram.
Is your dog fussy and likes to change things up? Then this probiotic might be the one for you as it comes as both a powder and a treat to make it easy for you to get your dog (or cat) to take its supplements.
These probiotics for dogs contain enzymes for the optimal support of your dog's intestines, whether it is suffering from a sensitive stomach, flatulence, or diarrhea. The probiotics support intestinal health, while the enzymes in the powder help break down the food for optimal utilization of the nutrients in it.
NaturVet is an FDA, and NACH audited manufacturing facility, with third-party audits yearly to ensure that the company keeps its promises on the labels.
Best for a High Concentration of Probiotics in Every Gram
Contains four Lactobacillus strains with a surprisingly 6 billion CFU per treat.
These pumpkin- or duck-flavored soft, chewy treats should make it easy for any dog owner to get their dog to love them. A standard 25lbs dog should receive one treat every day, meaning this big jar will last you three whole months. It is recommended to give the treat on a full stomach!
The probiotic treats pack a punch with 6 billion CFU per treat. Still, besides the beneficial probiotics, it also contains high-quality ingredients like pumpkin, which will help improve your dog's gut and digestive health. All the while containing no GMOs, corn, soy, sugar, or preservatives!
Best pick for the smaller dogs
Contains Bacillus Coagulans with 1.5 billion CFU per treat (1.5g).
Here are some treats perfect for the smaller mouths out there–but don't feel frightened away if you got a bigger dog! One chew per 25lbs means that this treat is terrific for all sizes of dogs. Just give an extra one, and with 160 flavored duck treats in each bottle, there should be plenty to go around.
These tiny treats contain probiotics that support an environment where probiotic cultures and colonies can thrive in the gut. This is to help combat gassiness, flatulence, and even bad breath and can be used for dogs of all ages.
Non-GMO verified ingredients.
Our Parting Words
Probiotics need to help your dog balance its sensitive microbiome, without filling it with untoward chemicals and fillers and that's why I am a sucker for short ingredient lists–and of course, that's why Honest Paws Pre + Probiotic is my top pick!
It is developed by a veterinarian with a Ph.D. in nutrition and gut health in dogs to put everything in this probiotic a dog needs for a healthy gut microbiome–and nothing it doesn't need. While keeping the flavor of bone broth–that most dogs will like!
It is also important to note that most healthy dogs fed high-quality dog food diets should not necessarily need probiotics every single day to stay happy and with a normal stool. It can for some be beneficial and is (almost) never harmful, but most dogs should be alright without. This is why this powder gains another extra point, for being shelf-stable for up to two years–so don't worry about using it all at once!
In the end, probiotics are there to support our dogs through gut issues and keep them healthy, which is precisely what these ten we've talked about do!