Heavy rains since Wednesday have been causing huge damages to roads and infrastructure in the Western Cape.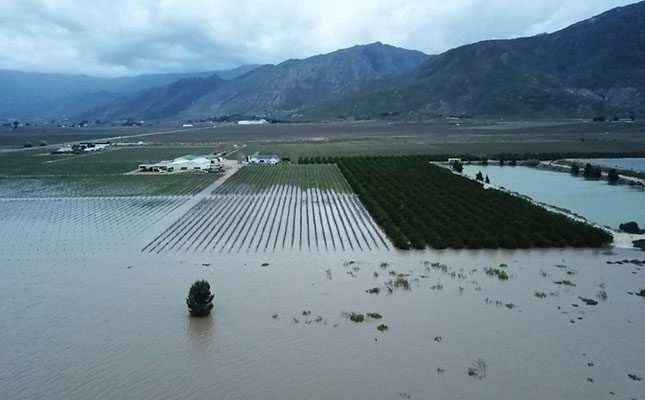 Jannie Strydom, CEO of Agri Western Cape, said the industry was thankful for the rain, as there were fears earlier this year that the province might be heading for a drought: "Many farmers are relieved and overjoyed about the rain, as it has helped to substantially increase dam levels in the province."
According to the Department of Water and Sanitation, major dams in the province were at 68,7% of their capacity on 12 of June, in comparison with 60% the week before and 51,1%, a year ago.
Strydom, however, admitted that concern had been growing since Thursday morning over the impact of infrastructural damages on and off farms, on the agriculture sector: "Agri Western Cape is meeting with the provincial Disaster Risk Management Centre to monitor the situation and see what can be done to salvage the situation."
Dr Ivan Meyer, Western Cape Minister of Agriculture, advised farmers to move animals to a safe place and provide shelter for especially young animals that could die easily. Urea licks should be covered to prevent them from becoming toxic, and farmers should not apply fungicides or pesticides when flooding is forecast, he said.
He said that farmers needed to be extra cautious of pest and diseases that could be triggered by high moisture content and temperatures after heavy rain. They should also assume that flood water contains sewage, and might be harmful for human and livestock consumption.
Water levels should also be checked before leading livestock across a river. "This is especially necessary if it is already raining, but remember that there could be a storm further upstream and floodwaters could be on their way."
While it was still too early to estimate the damages on a farm level, quite extensive infrastructural damages had been reported in various parts of the province.
The Western Cape Minister of Local Government, Environmental Affairs and Development Planning, Anton Bredell, said that some residents had to leave their homes, or in some cases lost their homes. In Rawsonville, specifically, roughly 1000 people were displaced. These people were being assisted with alternative accommodation by the Cape Winelands District Municipality.
"We know of people, especially in informal settlements, whose homes may have been damaged or flooded," he said.
Damaged road infrastructure also led to several road closures. The N1 through the Huguenot Tunnel towards Cape Town, for instance, was closed, resulting in a detour on the R43 from Worcester via Wolseley, while the N7 was closed at the Citrusdal entrance due to flooding.
"We are working hard to reopen roads as fast as we can, but are asking people to be patient, as our first priority is to protect lives. I appeal to residents not to travel unless they need to," Bredell said.
Eskom managed to restore power to Somerset West after a substation was flooded on Wednesday, while work to restore power to the Overstrand area, due to damaged power pylons in the mountainous areas, was continuing.
The South African Weather Service has forecast more rain for the province into next week.