Sam Kohl is dog grooming.
His roots in education run deep and his contributions to the industry reach far and wide. As a visionary with a talent for creating resources and tools for pet groomers around the world, he started the very first nationally recognized pet grooming school and has authored some of the most influential publications about grooming dogs in existence today. His innovative tools have changed the working lives of pet groomers everywhere—and he doesn't seem to be stopping anytime soon.
Sam took some time from his busy schedule to chat with me and share his incredible journey in the pet grooming industry…
Jonathan: Hi Sam, I'm so excited to share your legacy with our readers. You've contributed so much of your life to this industry and have done so much for groomers. Tell me about the very beginning of your career in the pet industry; where did it all begin?
Sam: I always wanted to be involved in the animal world. As a youngster, I dreamed of becoming a farmer. So, in high school, I enrolled in an agricultural course in Queens, NY.  Later, after I was discharged from the Marine Corps, I opened three businesses on the side; a tropical fish store and two small pet shops. None of the three were profitable, so I closed them after a while. 
My next move was to take a course in a small, new school called "The New York School of Dog Grooming." After graduation, I took a job in a pet shop that was located in a department store in Harlem. This gave me the idea to open a grooming shop close to that pet shop.  I then went downtown to the grooming school to buy all the supplies and equipment to open my own grooming shop, and this was when I got my big break! Ben Stone, the school's director, surprised me by offering to sell me a 50% share in the school! Without a second's hesitation I said, "Of course I'll do it!"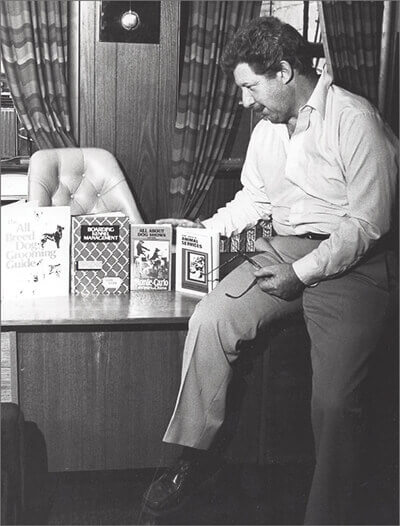 Two years later, I bought the other half of the school. It was then that I was able to make major improvements. I turned the New York School of Dog Grooming into the New York State Department's first and only licensed school of dog grooming in New York State, and first in the entire country! I improved and lengthened the courses, converted four apartments in the school building into dormitories and received permission to teach foreign students to learn to groom. I hired a manager and brought my wife, Cynthia, on board to manage the office, and me.
Jonathan: That's quite a beginning! And that leads me to my next question…In 1972, you published your first grooming book, The All Breed Dog Grooming Guide, arguably one of the most popular grooming guides of all time. There wasn't anything like it available on the market. Where did the inspiration come from and what was the process for such a new concept?
Sam: Well, now we needed a textbook to work with so that we could adhere to a unified course of study. The problem was there was nothing sufficient available at the time to solve this critical problem. I contacted all the dog breed clubs to ask them exactly how their particular breed should be groomed in a pet style. To add to this, I also contacted established AKC dog breeders around the country for their input on grooming pets that could look as good as show dogs. And that's how my first book was born. This was what started the dog grooming industry as we know it today. 
Jonathan: Since that very first grooming guide, you've authored multiple books with multiple editions for the grooming industry and for pet owners alike. Clearly education is a passion of yours. Where does that passion for continuing education and professional improvement derive from?
Sam: Imagine how many people have learned to groom, worldwide, from the over 100,000 sales of my All Breed Dog Grooming Guide books. Because of my book as a learning tool and my New York School of Dog Grooming that graduated over 20,000 students, these graduates began teaching others to groom; accounting for a large part of the groomers worldwide today. Our school also graduated at least 10 people who opened their own grooming schools. My passion comes from helping so many people become better at what they do and love…dogs.
Jonathan: Your talents and contributions aren't limited to writing books. You've also designed and developed countless tools to assist pet groomers under your brand, AARONCO® Pet Products Inc. Where does your inspiration for new products come from?
Sam: Years before I created AARONCO, I contributed to our industry by giving ideas for new products to other companies, free of charge. I saw the success of my ideas and knew I had to design for myself. I now design my products only for AARONCO.  My ideas emanate from what is needed for the benefit of the groomers' hands and the dogs' bodies. I am as thrilled with each product I design as one might be with a newborn baby.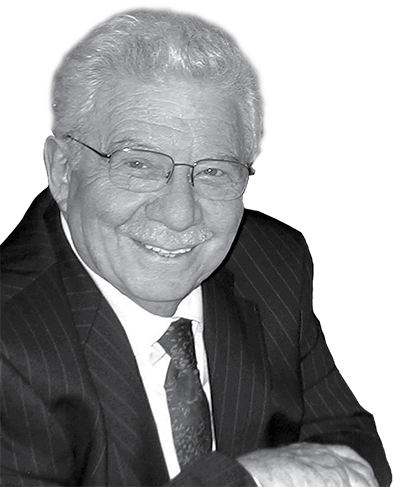 I'm currently working on several more new designs, but my problem now is finding more time to do them. Another enjoyment for me in producing new tools is in the naming of each one. It keeps me up about an hour each night thinking of the perfect names, but I love it.
 Jonathan: All your contributions, publications and well-designed products certainly haven't gone unnoticed. You've been the recipient of countless awards in the industry. I'm sure it would be hard to choose, but if you had to pick one award that's been the most significant, what would it be?
Sam: Well, I have two. One is more of an accomplishment and the other is an award.  The accomplishment that no one is aware of and that I am very proud of was, I think it was about 1975, when I got angry thinking how little attention the dog world was receiving from the media.  The Westminster Dog Show had just ended and not a word of it was mentioned in the press or on TV. I sat down and wrote postcards with a thick, black marker to two newspapers and two TV stations saying: "AMERICA'S SECOND OLDEST SPORTING EVENT JUST FINISHED AND YOU BLEW IT!"  Well, the next year, every one of them and others featured the dog show, and have been featuring dog shows on their newscasts and columns ever since!
The award I'm most proud of is the "Lifetime Achievement Award" from the late, great Sally Liddick and Barkleigh. She was truly a giant of our industry, and her approval and recognition meant everything to me. 
Jonathan: Well, I think you've certainly made Sally proud. And being one of the founders of this industry, you've watched it grow and change and improve through the years, in large part because of your contributions. What piece of advice would you give to the newest generation of groomers who may some day make their own mark in the industry? 
Sam: My advice to new groomers—and all groomers for that matter—is to read books, watch the videos, buy the new tools and develop your own opinions about what works best for you. Attend industry trade shows and never ever stop improving!
Jonathan: Sage advice from one of the greatest inspirations in our industry! Thank you for sharing your story and advice with us, you truly have been an asset to groomers everywhere. ✂️