With a wild population of less than 100 individuals living near the coast of North Carolina, the red wolf (Canis rufus) is one of the most endangered canids in the world. A Species Survival Plan (SSP) captive breeding program was conceived for the recovery of this endangered wolf. One of the facilities that takes part in this recovery program is the WNC Nature Center in Asheville, North Carolina.
On April 28, 2023 nine red wolf pups were born to Oak and Gloria, two three-year old wolves. The pups should be coming out of their den and start exploring their enclosure soon (they might be out already) so whenever you visit Asheville, make sure to add the Nature Center to see the red wolves!
The red wolf in the photo is Mayo, a red wolf that was at the Center back when I was volunteering. In 2012 she gave birth to a litter of four puppies (two females and two males). This not only brings joy and smiles to visitors of the WNC Nature Center but these puppies make a huge contribution to the gene pool of this critically endangered species.
Seeing a red wolf in the wild is not just difficult; it is nearly impossible. Very rarely, a visitor does catch a glimpse of one in the Alligator River National Wildlife Refuge. Your best chance is to visit a zoo or nature center that participates in the red wolf captive breeding program. Red Wolf Coalition has a list of the 42 approved facilities in the U.S. where red wolves can be visited.
If you enjoyed our Red Wolf Photo you may also like: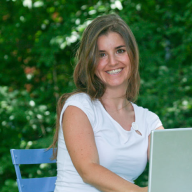 Cristina Garcia
Zoologist and wildlife photographer. She has worked in the field with jackals, wolves, cheetahs, & leopards. She serves on the Board of Directors of SEE Turtles, a non-profit sea turtle conservation organization.
Read her posts at Travel For Wildlife and see more of her work at Truly Wild, & Our Wild Yard.