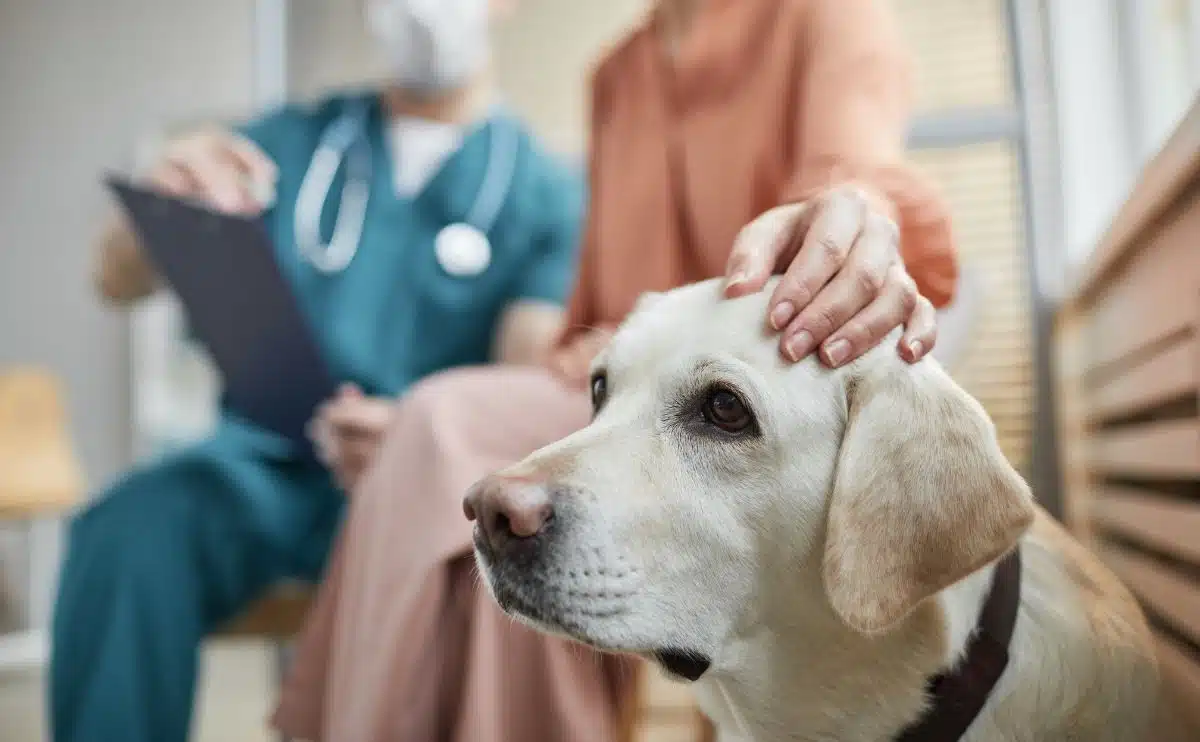 Paw Protect policies are administered by Embrace Pet Insurance, a well-established pet insurance company. So when you purchase a policy through Paw Protect, Embrace is the insurer providing coverage for your pet. But the biggest (and only) differentiator between the two brands is that Paw Protect offers a credit product called Paytient that you can use as a line of credit with 0% interest to pay vet bills upfront vs you paying out of pocket.
But why should you buy through newcomer Paw Protect instead of direct from Embrace, a long-trusted insurer?
Paw Protect Overall Rating
Paw Protect Pet Insurance Review

Product Name: Paw Protect Pet Insurance
Product Description: Paw Protect administers Embrace pet insurance policies for dogs and cats
Summary
Paw Protect's policies are administered by Embrace Pet Insurance. There is no additional perk to signing up for an Embrace policy through Paw Protect, so we recommend purchasing directly from Embrace. In some of the quotes we ran, Paw Protect charged $20-$30 more than Embrace for the same pet and plan details.
Pros
No per-incident limits on their claims as they use an annual deductible
No lifetime limit
Offers optional Wellness Rewards (not available in RI; must purchase in conjunction with pet insurance)
Pays claims within 10-15 days on average
Up to a 10% max discount for multiple pets (5% in NY)
Covers your pet if they travel outside the U.S. with you
30-day money-back guarantee
Eligible to apply for a virtual Paytient Visa card to pay for vet bills
Cons
$25 enrollment fee
Only covers enrolled pets age 14 and younger for accidents and illnesses (accident only may be available for ages 15+)
If one leg has a CCL (ACL) injury prior to enrollment, the other leg will not be covered even if there are no prior issues; it's considered a pre-existing condition
Charges more than Embrace for some pets
Our pet insurance experts read through each pet insurance company's policy to provide detailed comparisons and information regarding how a provider fares against others in the industry. We also speak with customers, read online feedback, and communicate one-on-one with pet insurance companies to obtain a well-rounded, unbiased analysis of a company's standings.
Our team rates pet insurance companies based on several factors, including A.M. Best ratings (an indicator of financial stability), claim processing reputations, contract coverage, customer service, pricing, plan customizations, and more.
Key Features
Underwriter: American Modern Home Insurance Company

A.M. Best rating (a measure of financial stability): A+

Bilateral condition (a condition or disease that affects both sides of the body): If your pet has a pre-existing bilateral condition (e.g., ACL tear), they're at a higher risk of the same situation on the other side of the body and any future occurrences of the same condition won't be covered.
Pets enrolled after their 15th birthday are solely eligible for the accident-only policy
Covers curable pre-existing conditions as long as the pet goes symptom or treatment free for 1 year or more
Paw Protect requires a vet exam within the last 12 months before the policy start date or 14 days after the start date.
Paw Protect policyholders are eligible to apply for a virtual Paytient Visa card to pay for vet bills without interest or fees ($5,000 line of credit available). This credit card is the only add-on perk when you buy via Paw Protect vs the same policy from Embrace.
Customer Service Options & Hours
Phone:

Monday – Friday: 9am – 8pm EST
Saturday: 10am – 2pm EST
Waiting Periods*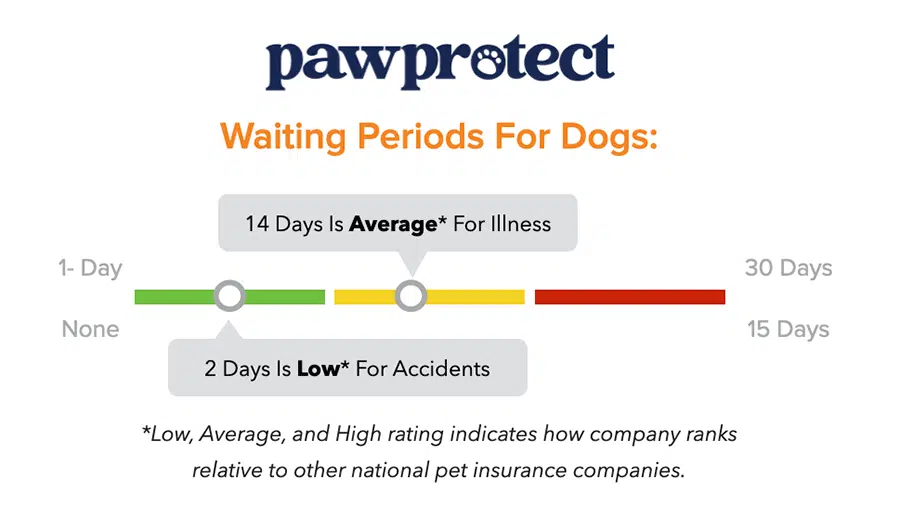 Illnesses: 14 days
Accidents: 2 days
Orthopedic conditions (e.g., cruciate ligament, hip dysplasia, etc.): 6 months or 14 days with an orthopedic report card† submitted; not applicable to cats)
Wellness: 0 days
*Waiting periods for Maine are as follows:
Accidents – 0 days
Illnesses – 14 days
Cruciate Ligament Conditions – 30 days
Routine Care – 0 days
†An orthopedic report card is a veterinary exam and waiver process designed to assess any bone or muscle deformities in your dog. To reduce the six-month waiting period for orthopedic conditions, take your dog to the vet and have an orthopedic exam conducted after your policy is purchased. Your vet will record any health findings for your dog's hips, legs, shoulders, forelimbs, spine, joints, and bones. You can learn more about Embrace's orthopedic exam and waiver process for dogs.
What Does Paw Protect Cover?
Please know that none of the providers in our pet insurance comparison charts cover pre-existing conditions, cremation and burial costs, pregnancy and breeding, or unnecessary cosmetic procedures.
All of them cover the following items when deemed medically necessary: emergency care, surgery and hospitalization, specialized exams and specialty care, X-rays, blood tests, ultrasounds, cat scans, MRIs, rehabilitation, cancer, chronic conditions, euthanasia, hereditary conditions, congenital conditions, non-routine dental treatment, and prescription medications. However, this coverage may have limitations, so please check your policy.
What's Paw Protect's Accident-Only Plan?
Paw Protect is one of the few pet insurance companies that offer an accident-only plan; however, it's only available for dogs enrolled at 15 years old or older. Dogs enrolled after their 15th birthday are not eligible for Paw Protect's accident and illness plan. To enroll your pet in an accident-only plan, call 888-968-8952.
It only covers accidents (as its name suggests), so things like broken bones are covered. It doesn't cover any illnesses, routine care, acupuncture, or chiropractic treatment.
What Are Paw Protect's Wellness Plans & Pricing?
Paw Protect also offers an optional Wellness Rewards (not available in Rhode Island) program for an additional fee. Paw Protect will reimburse 100% of your pet's routine care costs up to the selected amount of coverage you choose. You can select from the following amounts per year, which also lists their monthly cost:
| Wellness Rewards Per Year | Additional Monthly Cost |
| --- | --- |
| $250 | $18.75 |
| $450 | $35.42 |
| $650 | $52.09 |
$250 Wellness Rewards per year: an additional $18.75 per month
$450 Wellness Rewards per year: an additional $35.42 per month
$650 Wellness Rewards per year: an additional $52.09 per month
Wellness Plan Coverage
This money can go toward the following but is not limited to:
Routine vet visits
Flea, tick, and heartworm medications
Microchipping
Spay/neuter surgery
Massage and acupuncture
Prescription diet food
Vaccinations
Anal gland expression
Grooming
Fecal and routine blood tests
Medicated shampoos
Routine chiropractic care
Teeth cleaning
Training classes
Toenail trimming
Pet activity monitors
Cremation or burial
How Is Paw Protect's Pricing Determined?
Paw Protect has a $25 enrollment fee. Your monthly premium is based on the deductible, reimbursement percentage, and annual payout options that you choose from the table below.
Deductible Options
Payout Options
Reimbursement Options
$100
$250
$500
$5,000
$10,000
Unlimited
70%
80%
90%
Pricing is also based on your pet's details (age, breed, location, pre-existing conditions, etc.). We recommend obtaining quotes from Paw Protect for your specific pet to get an idea of how much a policy would cost you.
You can use our pet insurance quote form below to see how top providers compare for your actual pet.
Does Paw Protect Have Discounts?
Paw Protect has the following discounts:
10% off (5% off in NY) for multiple pets 
5% off for military and veterans (NY and TN excluded)
No promo code is needed. Use this link to take advantage of the best possible price.
Our Final Verdict On Paw Protect
Paw Protect is new to the pet insurance industry. We're comfortable with policies administered by Embrace because it has a solid reputation. However, we hesitate to recommend Paw Protect over going directly through Embrace because there were instances where we ran quotes, and Paw Protect was more expensive than Embrace.
But Paw Protect gives you access to apply for a Paytient Visa card, which could help you cover the cost of vet bills until you receive a claim reimbursement. Paw Protect seems to be the only way to get a Paytient credit benefit since Embrace doesn't offer access to it directly.
Overall, researching before buying a pet insurance plan is a must. We invite you to read through our best pet insurance guide so you feel 100% positive about making the best decision for your furry friend.
Tagged With: Reviewed By Insurance Agent

Source link