It's not uncommon for visitors exploring the Kruger Street Toy and Train Museum in West Virginia to assume they are looking at a cute, fuzzy, toy cat when they see Loo sleeping or sitting still among the vintage playthings. But then, the kitty moves and … surprise! They have met the museum's beloved resident cat, Loo, who is no stuffed toy.
This year, Loo celebrates his 10th birthday and 10th anniversary at the 25-year-old museum.
Becoming Loo
Loo found the museum through serendipity as a stray kitten in 2013. The furry little guy, then about 4 to 5 months old, sneaked into and stowed away in a van that belonged to the filming crew of Captain Z & the Terror of Leviathan, an indie comedy-horror movie that was shot in the Wheeling area, where the museum is located.
On the second day of filming, the kitten came running from one of the vehicles in the parking lot, trotted up the steps to the museum and made himself at home. A manager tried to find the kitty an adopter for maybe an hour, but staffers knew they were goners. They agreed: The kitten had a home already, right there at the museum.
"We all fell in love. How can you not?" says Becky Gerlak, IT manager at the museum.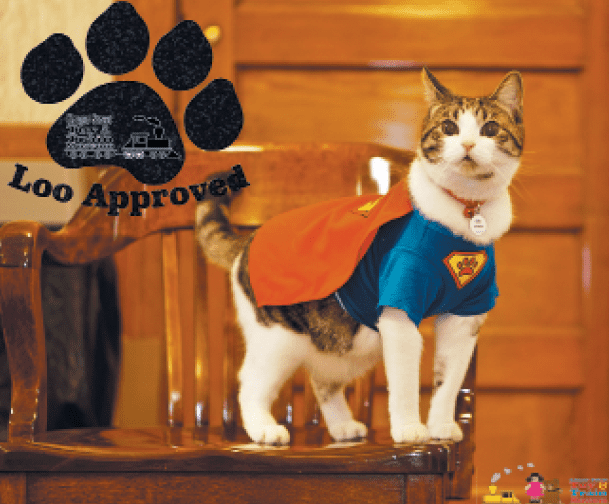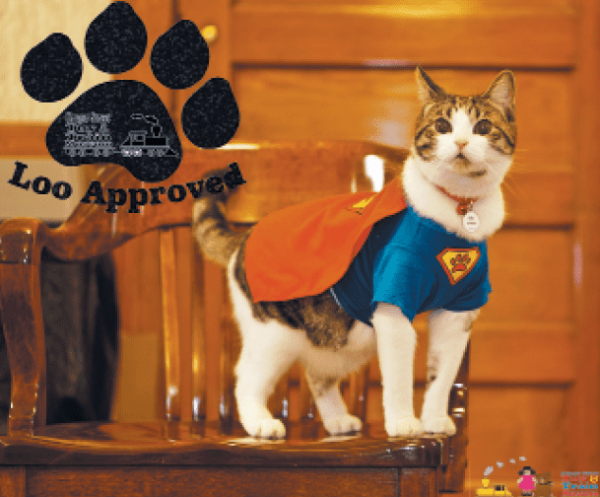 A visitor favorite
Loo — named after legendary 20th-century American toy maker Louis Marx and Company, the maker of the giant robot called Big Loo — lives and sleeps at the museum, and staff members all pitch in to take care of him. Museum visitors are usually delighted to encounter the kitty, who has developed a fan following. Loo has his own Facebook page called "Loo Approved," and the museum will likely add a page dedicated to the cat to its website (toy andtrain.com), Becky says.
Many people come from near and
far mainly to see Loo, and then check out the museum's collection of vintage toys, including dolls, figurines, cars, robots and games. Becky recalls a few years ago, when a tour bus en route from Los Angeles to New York City with about 35 people on board stopped at the museum because someone wanted to meet Loo.
Right at home
Loo is friendly and loving to guests, and he often likes to be petted but not picked up, Becky says. Loo sometimes follows people around the museum, and you never know where you will bump into him. Some fans send Loo gifts of catnip toys and other goodies. During my visit, Loo was lounging on the big staircase and watching over the lobby.
Having a cat gives the museum — which even has a claw vending machine in the lobby filled with plush toys called "Loo's Loot" — a warmer, fuzzier and more homey and inviting feel, Becky says.
"People say that he's beautiful," she says. "A lot of people say that he looks like their cat. … They see Loo, and it makes them feel more at home because they remember their cat."
Melanie "Mel" Larch, a big fan of Loo's and a regular visitor, remembers browsing the museum's gift shop one day and running into Loo there. She sat down on the floor, and Loo climbed into her lap and sat with her for several minutes.
"He's just a really sweet cat," says Mel, who travels to the museum from West Virginia. "He's a great attraction for the museum — a great ambassador, if you will."