"Groom Expo is where we gather and speak the language of grooming," says Jayne Gallagher, seminar speaker and co-star of Pooch Perfect. "It's the heartbeat of our industry!"
More than 5,500 groomers from all over the globe gathered at the Hershey Lodge and Convention center in Hershey, Pennsylvania to attend the 2022 Groom Expo.
"This was my first visit to any grooming show outside of Australia," says Sarah Warner. "I heard that Groom Expo was the biggest in the world, and when I found out that I had been nominated for a Barkleigh Honors Award, I knew I had to attend.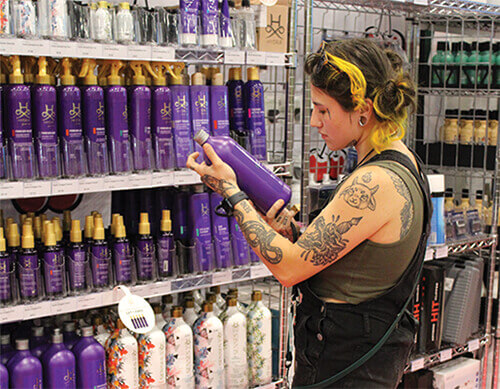 "After traveling 30 hours and over 10,000 miles, I arrived in Hershey," Sarah continues. "The first person to greet me by name was Rebecca Shipman at the registration desk, and from that moment on, I felt like I was among 'my people.' I found the vendors, attendees, and even the grooming competition judges to be the most approachable, kind, supportive, and friendly collection of people."
Jeff and Elizabeth Childers, who were also first-time attendees, drove from Tennessee to attend the expo. "We are preparing to open a self-serve dog wash and will also be offering professional pet grooming services," says Elizabeth. "The Expo has provided an enormous amount of valuable information that will help us to provide the right tools and information to our pet owners and our employees. Dr. Cliff Faver's 'Business 101' seminar was enough to make the whole trip worthwhile."
Jennie Smith, who owns a grooming salon and grooming school in Loveland, Colorado, calls Groom Expo the "Superbowl" of grooming expos: "This year I brought all 13 of my staff members to Groom Expo and signed every one of them up for the VIP package," says Jennie. "The VIP lounge always had a supply of coffee, hot chocolate, water, and chocolates. And it was nice to have a place to go to relax and absorb everything you learned in the seminars.
"And, the seminars! Where else can you go and have one-on-one conversations with the top people in our industry? One of my girls got to be Victor Rosado's assistant for his 'Supercharge Your Grooming' seminar. Let me tell you—she is still on cloud nine!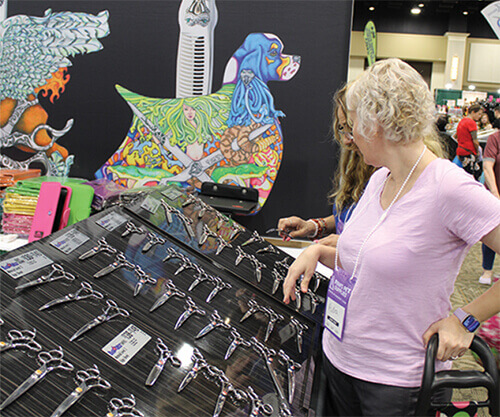 "I loved the mental health series and feel it is so needed in our industry," Jennie continues. "We are all such empaths for the dogs, our clients, our staff, that we forget to take care of ourselves. All of the speakers in the series opened up and were honest about struggles they had. And I think for myself, a 37-year veteran in the industry, it was powerful and impactful to know I wasn't alone."
In addition to the educational seminars and grooming demos designed to help you take your skills from good to great, grooming competitions were held throughout the weekend. You could sit in the audience and watch some of the best groomers on the planet work their magic from start to finish, observing their techniques and seeing the products they use.
The enormous trade show was buzzing all weekend long. The vendors had products for every skill level and budget, and the groomers were taking full advantage of show specials to stock up on their favorites.
Groom Expo is not all business though, there was plenty of time for fun.  The Internet Social, "Groomers of the Galaxy" opening-night party and the Barkleigh Honors after party gave attendees the opportunity to meet up with old friends, make new ones, and unwind and really enjoy themselves.
Saturday evening featured the Barkleigh Honors Awards and dinner. It was a spectacular event that solidified the fact that groomers are "family." The ballroom erupted with tumultuous applause and cheers for the winner of each of the grooming tournaments as they vied for placement in the Best In Show Awards. Then, the 26 contestants of the Abstract Runway competition displayed their amazing creations on the catwalk, and were rewarded with the audience's thunderous approval.
During the Barkleigh Honors Awards, every nominee received a huge ovation as their name was announced. When Delise Knight received the Barkleigh Honors "Lifetime Achievement Award," there wasn't a dry eye in the house. Everyone rose to their feet in tribute to her and to honor her achievements.
Sunday's Creative Grooming competition drew entries from all over: "I traveled 3,576 miles from England to participate in the Creative competition," says Vikki Pearman. "It was a dream come true for me. Everyone was so helpful and friendly, and I received many compliments for the groom I did. It was a great experience and a memory I will have forever."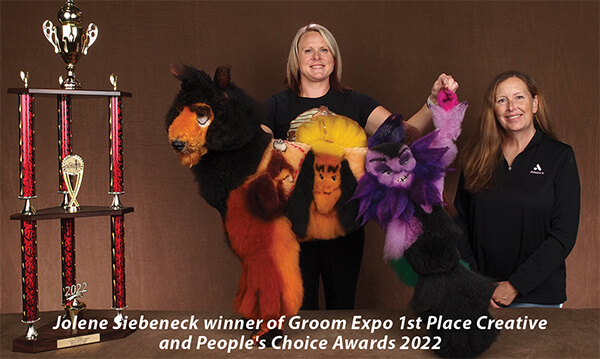 "I've been going to Groom Expo since I started my grooming business 18 years ago," says Jolene Siebeneck. "When I got into competing in Creative, my goal was to win the 'People's Choice Award.' I can't even begin to explain the feelings I had when I was announced as the winner!  I was ecstatic! Then, when my name was announced as taking 1st place, I was in complete shock. Every competitor works so hard and puts in countless hours for this moment. I had a hard time wrapping my head around the fact that I won both awards!"
Creative groomer Andrea Zelinsky didn't let a case of nerves and anxiety keep her from competing: "Right before the competition, I ran to the bathroom, splashed some water on my face, and gave myself my best mirror pep talk," says Andrea. "I opened the door and saw Stacy Przbylinski who quickly asked me if I was all right. My tears started flowing, and Stacy immediately showed me her love and support and said, 'Just listen to the music and forget about the crowd.' And, that's exactly what I did.
"To my surprise," continues Andrea, "MY name was announced as Rising Star. After the show, a fellow groomer says to me, 'Man, creative groomers really just love when each other places. That's so awesome to see.' And, it's so true. I have found my place among a community that strives for personal best but also strives for community success."
Time after time, Jayne Gallagher's comment about Groom Expo being the heartbeat of the industry was confirmed by the groomers at the show.
"Although I was traveling alone, never once did I notice it amongst the incredible community of groomers I was with," shares Sarah Lagos. "I learned more than I could ever explain about the art of pet grooming, about myself, and how grateful I am to have found this career. 
"I could tell you all the things I bought and what I did every day, but my biggest takeaway was during the Barkleigh Honors Awards," continues Sarah. "As the awards were presented, speeches given, and tears shed on stage, I felt a sudden and immense gratitude. I realize that this career is the reason I've been able to find happiness, hope, and a purpose.
"I have a future," Sarah affirms. "It's what I was meant to do. I'm sure of it!" ✂️