Unfortunately, arthritis in dogs is an extremely common chronic health problem. If your vet has diagnosed your pup with arthritis or he's one of many breeds susceptible to developing this disease during his lifetime, it's so important to know how you can protect your furry friend from this degenerative, incurable condition.
The best joint and arthritis supplements we recommend in our reviews below can help alleviate pain and swelling if your pup is already showing signs of arthritis. Our top picks include vet-recommended Dasuquin and Cosequin, as well as some other joint-friendly pain relievers. Keep in mind, however, that arthrisis supplements are also worth considering if your dog's breed is at a higher risk of developing arthritis in the future.
At A Glance: Best Dog Arthritis Supplements & OTC Pain Relief
Treating Arthritis In Dogs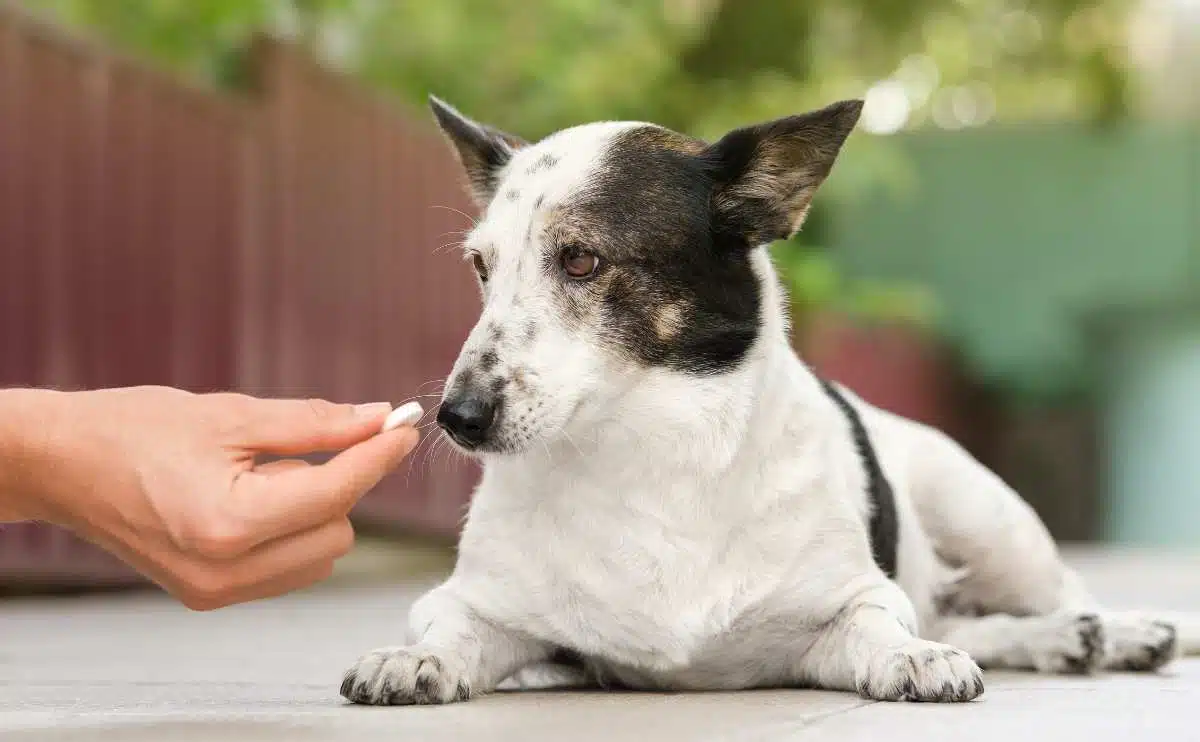 Osteoarthritis, also referred to as degenerative joint disease, is a chronic joint condition that often requires multiple treatment approaches. Your vet may recommend a combination of supplements, pain medication, a healthy diet, weight management, exercise, physical therapy, and alternative therapies to manage your pup's disease. The ultimate goal is to give your furry friend pain relief from inflamed joints, increased mobility, and an ideal quality of life. These therapies can also help slow down the damage to your pup's joints.
Best Arthritis Medicine For Dogs
Veterinarians typically prescribe non-steroidal anti-inflammatory drugs (NSAIDs) to combat the pain, swelling, and stiffness associated with dog arthritis. A few of the safest and most effective NSAIDs for dogs include Rimadyl (carprofen), Metacam (meloxicam), and Galliprant (grapiprant). Canines can also benefit from prescription injections, such as Adequan (polysulfated glycosaminoglycan). Unfortunately, some dogs have negative side effects from NSAIDs.
Although we may have human NSAIDs, such as aspirin and ibuprofen, in our medicine cabinets, it's important to use a vet-prescribed medication and dosage for your dog. Never give your dog NSAIDs meant for humans. Misuse of human NSAIDs with dogs can have serious side effects such as gastrointestinal bleeding, gastric ulcers, kidney or liver dysfunction, and even death.
6 Best Arthritis Supplements For Dogs
We've chosen the best arthritis supplements and natural pain relievers for dogs based on several factors, including the quality of ingredients, pricing, and customer feedback. Head over to our companion article on the best joint supplements for dogs to see specific ingredient details, additional products, and more. Keep in mind that you should always consult your veterinarian before giving your pet any supplement.
Best Overall: Nutramax Dasuquin Review
View on Amazon | View on Chewy
A leading vet-recommended product, Dasuquin is Nutramax Laboratories' premium supplement for dog joint health. Made in the USA with all-natural ingredients, Dasuquin is a proprietary blend of glucosamine HCI, chondroitin, methylsulfonylmethane (MSM), avocado/soybean unsaponifiable (ASU), and several other natural anti-inflammatory ingredients.
This vet-formulated joint supplement not only reduces inflammation and pain, but it also helps improve cartilage production and inhibit cartilage breakdown. A small study even found that Dasuquin may be as beneficial as NSAIDs in treating arthritis symptoms. Dasuquin gets overwhelmingly positive reviews from owners of arthritic dogs. But it's also helpful in supporting joint health in healthy dogs.
Price
Best Omega-3 Fatty Acid Supplement: Nordic Naturals Omega-3 Pet Review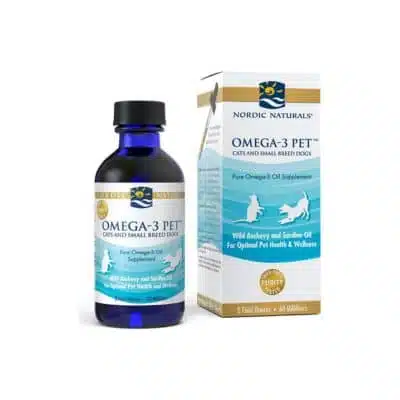 View on Amazon | View on Chewy
Research has shown that fish oil can be quite effective in treating arthritis. One study even found that fish oil supplementation in arthritic dogs can significantly reduce NSAID dosing requirements for optimal pain relief. Fish oil is rich in omega-3 fatty acids, including docosahexaenoic acid (DHA) and eicosapentaenoic acid (EPA). DHA and EPA have anti-inflammatory properties, making them an excellent all-natural way to treat many inflammatory diseases such as arthritis, skin allergies, and more.
The nonprofit organization Canine Arthritis Resources and Education (CARE) recommends Nordic Naturals Omega-3 Pet as the best fish oil supplement for dogs with arthritis. Featuring 100% wild anchovy and sardine oil, this product is packed with high levels of DHA and EPA. It's diluted for purity and third-party tested to ensure quality. If you find fish oil too messy, Nordic Naturals offers soft gels that also contain high levels of DHA and EPA.
Our Personal Experience With Nordic Naturals Joint Supplements
"We learned that our dog's sibling had been diagnosed with early onset hip dysplasia at only age two. So we talked to our vet and they recommended we started him on Nordic. Naturals for a daily joint supplement as a proactive measure. He gobbles it right up every morning with his breakfast and has been healthy and walking great since starting him on them a year ago."

– Sadie Cornelius, Cavalier King Charles Spaniel dog parent
Price
Starts at

$14.41


(2-oz bottle)
Best OTC Arthritis "Medicine" For Dogs: Honest Paws Mobility CBD Oil Review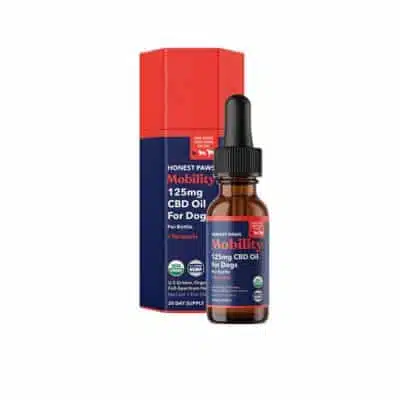 Derived from the hemp plant, cannabidiol (CBD) offers the natural medicinal benefits of cannabis without the high from taking THC. Multiple studies have demonstrated the benefits of CBD for pain relief in dogs. One of the first studies found that over 80% of dogs with osteoarthritis experienced a significant decrease in pain and an increase in mobility with CBD oil supplementation.
It's extremely important to find a high-quality CBD oil made specifically for our furry companions or CBD dog treats. We recommend Honest Paws, which offers an excellent full-spectrum Mobility CBD oil formulated with hemp oil and organic turmeric extract.
All of Honest Paws' products are third-party tested for safety and quality. They also have a fantastic CBD-free joint supplement that contains a powdered blend of glucosamine HCI, chondroitin sulfate, green-lipped mussel, MSM, and other all-natural ingredients.
Price
You can save 15% if you subscribe for monthly auto shipments on all products.
Mobility CBD oil starts at $39.95 (1 fluid oz; 125mg oil)
Mobility joint supplement: $29.95 (30 scoops)
Use this link to take advantage of the best offers from Honest Paws.
Full Review Of Honest Paws | Learn More About CBD For Dogs
Best Arthritis Pills For Dogs: Vet's Best Aches+Pains Review
View on Amazon | View on Chewy
One of the most popular choices for all-natural pain relief for arthritis is Vet's Best Aches + Pains. These vet-formulated chewable tablets glucosamine HCL and MSM for joint health and plant-based ingredients such as pineapple bromelain and white willow bark that help relieve the pain and inflammation associated with joint problems.
Vet's Best products also carry the quality seal of approval from the National Animal Supplement Council (NASC) for safe manufacturing practices. The NASC is a non-profit trade organization that's committed to setting standards for pet supplements, which aren't regulated by the FDA.
Price
Best With Green-Lipped Mussel: PetHonesty Hip + Joint Health Max Strength Review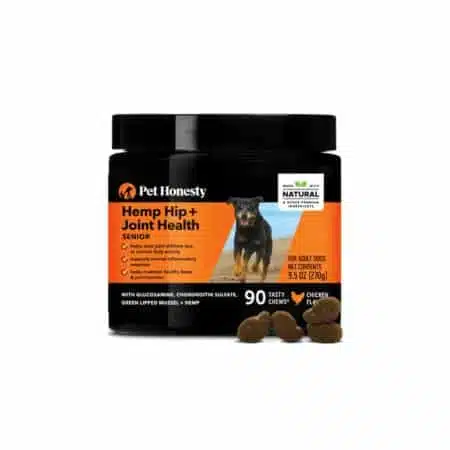 Green-lipped mussels (GLMs), found off the coast of New Zealand, are rich in DHA and EPA omega-3 fatty acids, chondroitin sulfate, amino acids, antioxidants, and other compounds that can help reduce inflammation and pain and improve mobility. Studies have shown that when taken with glucosamine, GLMs are effective in relieving pain and boosting joint health in dogs with arthritis.
Pet Honesty's max strength Hip + Joint Health supplements combine 400mg of GLMs with glucosamine, chondroitin sulfate, turmeric, MSM, omega-3s, and other all-natural ingredients. These bacon-flavored soft chews are formulated for maximum support for arthritis symptoms. All of Pet Honesty's supplements are NASC-certified and made in the USA in a GMP-compliant facility.
Price
You can save 20% by subscribing for auto-shipping with PetHonesty.
Get free shipping over $49 – no coupon code required. Use this link to take advantage of this offer.
Best For Senior Dogs: Nutramax Cosequin Senior Review
Frequently recommended by vets, Cosequin Senior joint supplements get rave reviews from pup parents about how effective they are in improving their dogs' mobility. These soft chews contain three key joint health ingredients (glucosamine HCI, chondroitin sulfate, and MSM) to promote healthy cartilage and connective tissue. They're also fortified with omega-3 fatty acids for added joint support and beta-glucans for immune and digestive health.
Price
A Healthy Diet Can Make A Big Difference
If your dog is suffering from arthritis or you just want to make sure your pup is eating the healthiest diet, you may want to consider switching her food. A diet rich in natural nutrients and immune-boosting ingredients can help your dog's body fight the negative effects of joint diseases. Several companies that offer fresh dog food delivery can even personalize your pup's food.
Dogs Most At Risk For Arthritis
Any dog or breed can develop arthritis, but experts know that some factors make it more prevalent. Any dog who is overweight is particularly susceptible. Why? Extra weight puts extreme pressure on your pup's joints. If your pup is packing on a few extra pounds, it's extremely important to work with your vet on a weight loss plan.
Still, many breeds (and mixed breeds) are more prone to developing arthritis even if they've never had a weight problem. Some of the breeds at a higher risk include:
Toy/small breeds: Boston Terriers, Chihuahuas, Dachshunds, Pugs, and Yorkshire Terriers
Medium/large breeds: American Staffordshire Terriers, Boxers, Bulldogs, German Shepherds, Golden Retrievers, Labrador Retrievers, Mastiffs, Old English Sheep Dogs, and Rottweilers
Giant breeds: Great Danes, Newfoundlands, and Saint Bernards
Does Pet Insurance Cover Arthritis?
If you have a breed that's at a higher risk of developing arthritis, hip dysplasia, or other serious joint problems, you may want to consider pet insurance. These chronic conditions can get extremely expensive to treat, but if you enroll your furry friend in pet insurance before problems arise, many policies cover a portion of these costly vet bills (as long as it's not a pre-existing condition). Pet insurance can save you from financial trouble should an accident, illness, or pet emergency arise. Learn more about pet insurance and whether it's worth it for you and your pup.
Tagged With: Arthritis, Comparison, Supplements