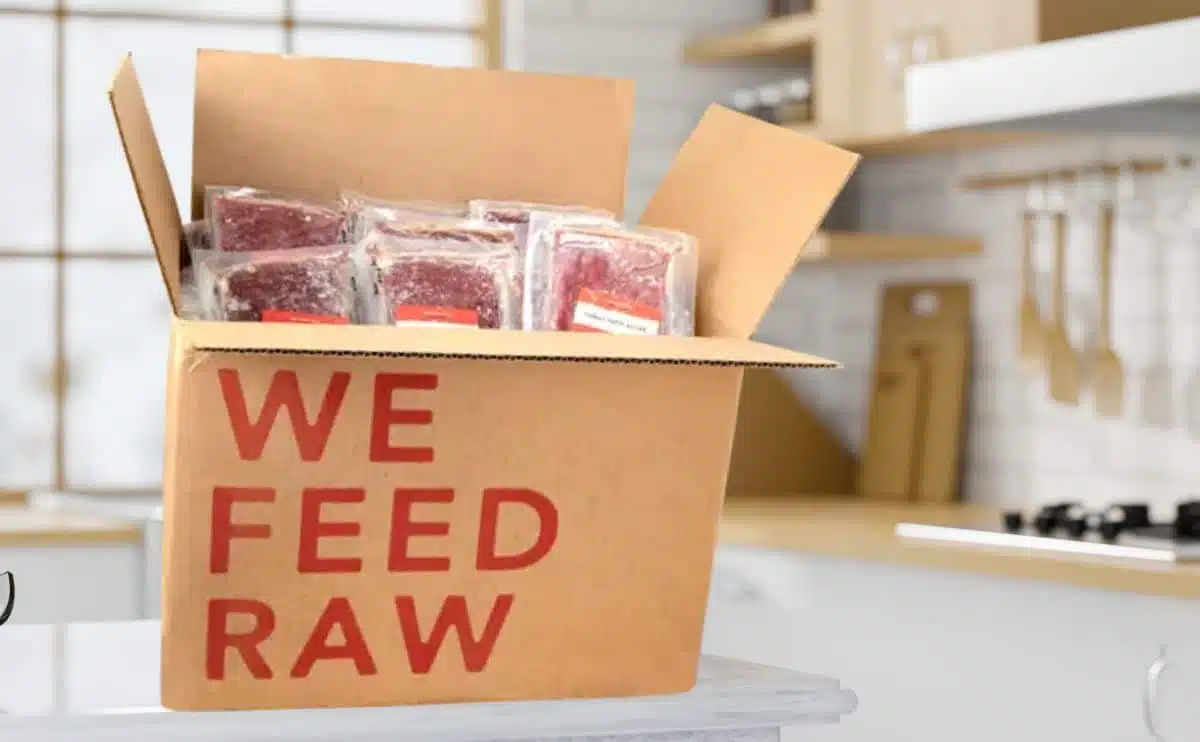 Are you looking for the best and most convenient raw dog food for your pup? Whether you're new to the raw food trend or no longer have the time to prepare nutritionally balanced raw meals for your furry friend, We Feed Raw could be the ideal solution for you and your pup. We give you all the details about this company and what they offer so you can decide whether We Feed Raw is your best option.
We Feed Raw Review

Product Name: We Feed Raw
Product Description: We Feed Raw offers nutritionally complete and balanced raw dog food patties delivered right to your door.
Summary
We Feed Raw is a well-respected brand in the raw pet food industry for its commitment to food safety and nutritionally balanced premium meals. With customized portions for your pup's specific dietary needs delivered right to your door, We Feed Raw takes all the food prep work off your plate.  
Our team rates dog food based on several factors, including food safety, variety, nutritional value, pricing, customer support, and more.
Pros
6 animal protein options (more than most competitors)
USDA human-grade meats
Formulated by a Ph.D. animal nutritionist and vet approved
Meets AAFCO nutrition standards for a complete and balanced diet for all life stages
Ability to choose full, 75%, or 50% meals for recurring deliveries
No fillers or artificial preservatives, colors, and flavors
Food is complete and balanced for cats as well
Made in the USA
Cons
Expensive compared to premium kibble (but competitively priced for raw and fresh dog food delivery) 
Must allow time for the food to thaw out (12 to 24 hours)
Ships every four weeks, so you may not have room in your freezer for the full meal plan
Key Features
Offers beef, chicken, duck, lamb, turkey, and venison recipes
Patties contain 100% meat, organs, and finely ground bone, all fortified with essential vitamins and minerals 
Recipes formulated by a Ph.D. animal nutritionist with over 30 years of experience in raw feeding and animal nutrition
Sources pasture-raised, grass-fed lamb and venison from New Zealand, and all other meats come from "trusted farms" in the U.S.
Food stays good in the freezer for 6 months and 4 days in the fridge once thawed
Thin packaging is convenient if you're strapped for fridge and freezer space
Many customers say it's great for allergies and picky eaters
Excellent reviews for customer support (available via live chat, phone, SMS text, and email)
Quality & Safety Standards
The American Veterinary Medical Association (AVMA) warns pet owners about the potential dangers of feeding dogs and cats raw or undercooked animal protein. Raw meat, fish, and eggs can be contaminated with a host of pathogenic organisms such as salmonella, E. coli, listeria, and more. But We Feed Raw makes food quality and safety their top priority.
All of We Feed Raw's food undergoes high-pressure processing (HPP), a technology that uses ultra-high water pressure to neutralize food-borne pathogens. Because this process doesn't use high heat, the nutritional value and flavor of the food are well-preserved. They also process all recipes in a USDA-certified facility following the requirements of the BRC Global Standard for Food Safety.
Has We Feed Raw Dog Food Ever Beed Recalled?
Pet food is recalled either by the U.S. Food & Drug Administration (FDA), which governs pet food standards, or voluntarily by the brand themselves. This typically occurs when there's a potential risk of contamination or another quality issue. We Feed Raw has never had a dog food recall since its founding in 2009.
Ingredients & Guaranteed Analysis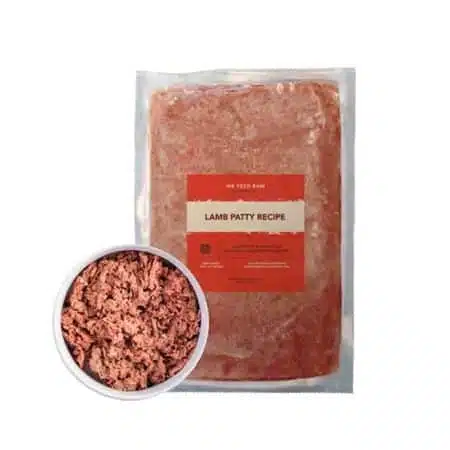 Wondering what's in We Feed Raw's patties? See below for the full recipe list so you can see a breakdown. Each recipe is fortified with WFR vitamin and mineral mix to fully meet AAFCO guidelines for all life stages.* It's important to note that if your pup has a specific animal protein intolerance, not all recipes contain a single protein.
| Recipe | Ingredients | Crude Protein (Min) | Crude Fat (Min) | Crude Fiber (Max) | Moisture (Max) | Kcal/oz. |
| --- | --- | --- | --- | --- | --- | --- |
| Beef | Beef Heart, Beef Liver, Beef Kidney, Beef Necks (with bone) | 12.2% | 10% | 1% | 68% | 51 |
| Chicken | Chicken Hearts, Chicken Backs, Chicken Leg Quarters, Chicken Liver | 13% | 10% | 1% | 71% | 47 |
| Duck | Duck, Turkey Gizzards, Turkey Tails, Turkey Liver | 12.6% | 10.6% | 1% | 71.5% | 47 |
| Lamb | Lamb, Beef Heart, Beef Liver, Beef Kidney, Beef Necks (with bone) | 13.9% | 9.5% | 1% | 69.5% | 51 |
| Turkey | Turkey Tails, Turkey Gizzards, Turkey Wings, Turkey Liver | 12.8% | 6.6% | 1% | 73.7% | 47 |
| Venison | Venison, Beef Heart, Beef Liver, Beef Kidney, Beef Necks (with bone) | 13% | 10.7% | 1% | 69.4% | 51 |
*WFR Vitamin & Mineral Mix: Flaxseed, Calcium Carbonate, Zinc Sulfate, Sodium Selenite, Vitamin E Supplement, Niacin Supplement, Copper Sulfate, Manganese Sulfate, Calcium Pantothenate, Thiamine Mononitrate, Vitamin A Supplement, Riboflavin Supplement, Pyridoxine Hydrochloride, Vitamin B12 Supplement, Calcium Iodate, Vitamin D3 Supplement, Folic Acid
How Does We Feed Raw's Meal Plan Work?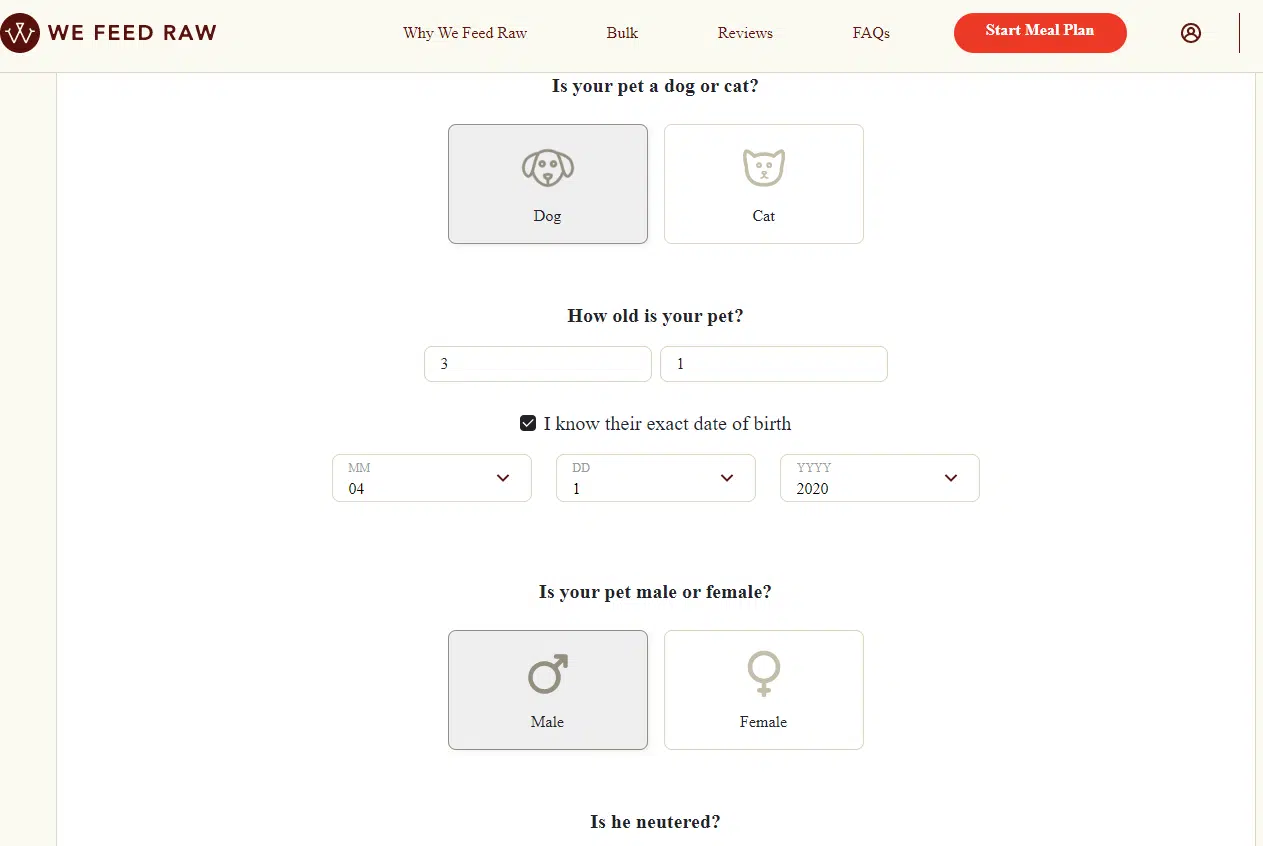 You begin by filling out a brief profile of your pup, including age, gender, breed, current weight, ideal weight, and activity level. We Feed Raw uses this information to calculate how many ounces of their patties your dog should eat each day (called the daily dose). Then you choose the recipe(s) you want to order, anywhere from one to all six.
You can also choose 100%, 75%, or 50% We Feed Raw meals. This is an excellent option to save some serious cash if you plan on supplementing We Feed Raw's patties with other dog food. That way your pup can reap the benefits of raw food at a more affordable cost.
You first get a two-week discounted trial box. Then your recurring order ships every four weeks. Their flexible plans allow you to change your recipes, quantity, and frequency. You can also pause or cancel your subscription at any time.
Price & We Feed Raw Promo Code
Meal plan pricing varies on your dog's portion size, weight goals, and the type of meal plan you choose (100%, 75%, or 50%). The prices below are for their 100% meal plan for a 3-year-old, 35-pound mixed-breed dog at his ideal weight (with a daily dose of 13 oz). You get free shipping on all orders.
Chicken: $54.51/week
Turkey: $54.51/week
Beef: $54.08/week
Duck: $66.24/week
Lamb: $60.48/week
Venison: $60.48/week
You can also order patties in bulk (minimum of 30 lbs) without a subscription. Pricing for bulk orders starts at $227.94 for 30 lbs of chicken patties.
Our readers can get 20% off their trial box. Use this link to take advantage of this offer (no discount code needed).
Potential Benefits Of A Raw Diet
While evidence does exist for claims by raw-feeding proponents of a healthier intestinal microbiome and improved stool quality, many veterinary experts say there aren't clinically proven benefits for many other claims. These include softer, healthier skin and coat, improved allergies, increased energy levels, better weight control, and more.
However, based on the customer reviews we've seen online for We Feed Raw, many pup owners enthusiastically note improved allergies and digestive problems, higher energy levels, and other benefits they've found when their dogs changed to We Feed Raw's food.
Read our article on the benefits and risks of a raw diet if you're unsure about going raw with your pup. And we encourage you to discuss a raw food diet or any new diet with your veterinarian to make sure your pup is getting the ideal food for his specific health needs.
The Origin Of We Feed Raw (Video)
See the heartwarming story of how We Feed Raw got its start and the history of this family company's growth.
We Feed Raw Alternatives
While we think We Feed Raw is an excellent option for pups on raw diets, see how they compare to other top choices in our reviews of the best raw dog food delivery services. If you're not sold on raw dog food, you have some other excellent premium human-grade diet options that are highly nutritious and just as convenient as We Feed Raw. Check out our reviews of the best fresh dog food delivery brands to see alternative options.
Tagged With: Food Delivery