Rescue

As the country's first national humane organization, we have been at the forefront of helping animals in need after nearly every major war or natural disaster since WWI. Following our "First To Serve" mission that has powered our programs for more than 145 years, American Humane's rescue team completed its first deployment of 2023, responding to the destruction caused by multiple tornadoes that tore through Georgia's "Tornado Alley" on January 12.
Establishing its base in Spalding County, GA, the American Humane Rescue Team deployed for nearly three weeks to assist our partners in running a temporary emergency animal shelter and care for more than 130 missing and displaced pets.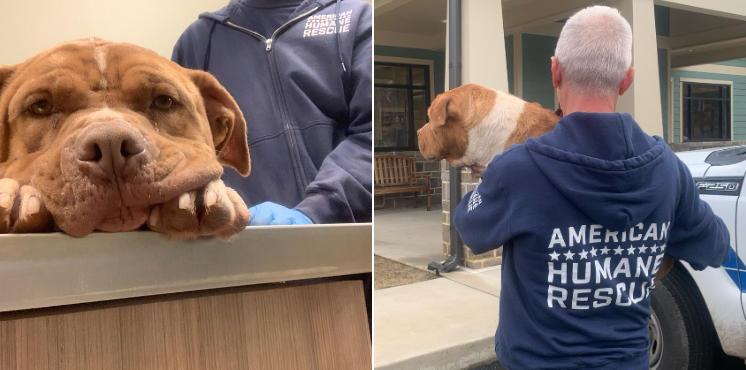 During deployment, the team evaluated and facilitated medical care in the temporary emergency shelter, reunited pets with their owners, and collaborated with local officials and rescue organizations to help displaced animals find permanent homes.
A scared and displaced dog named Rusty arrived at the temporary shelter on January 26 with a neck wound. The team secured Rusty an appointment with a local veterinarian where he was prescribed an antibiotic for his injuries. Rusty made great strides over the next few days in the loving care of our team. After he completed his mandatory hold at the emergency shelter, the volunteers noted that Rusty was doing well and ready to find his new forever home.
Another innocently displaced pet named Daisy Mae arrived at the shelter. Her owner suffered severe injuries from the tornados and was treated at a nearby hospital. While she was recovering, the rescue team provided endless love and comfort to Daisy Mae. After 18 days apart, Daisy Mae was reunited with her owner!
When disaster strikes, American Humane strives to help ensure the safety, welfare and well-being of animals in need. American Humane could not perform this transformational rescue work without support from people across the globe, and the Rescue Team will continue its mission to be "First To Serve" the beautiful creatures impacted by this devastation.
To donate and learn more about our rescue efforts, please click the link here.